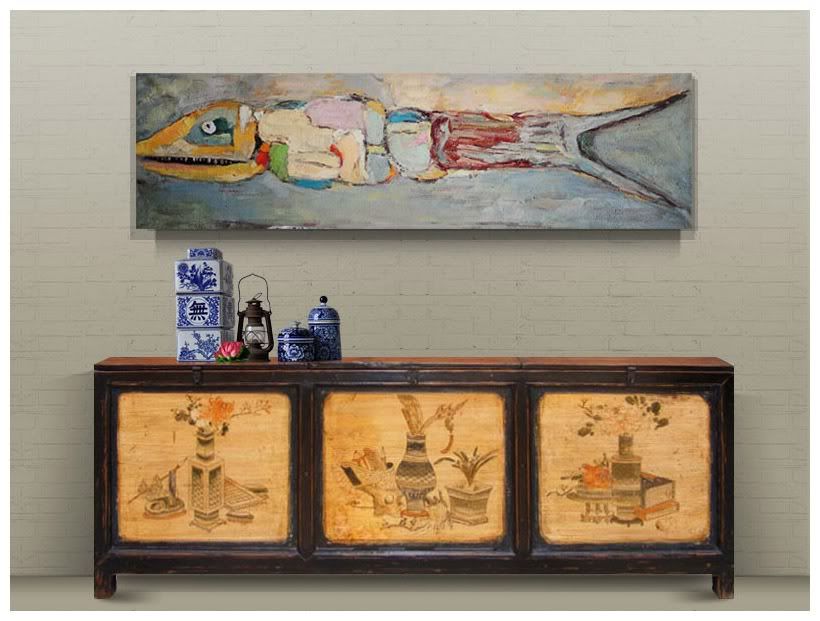 Item: The Odd Fish (120cmx35cm) Selling at USD$280.
An experimental piece of oil painting.
When I was a kid, I remebered clearly I was brought to this place that sell famous seafood in Hong Kong.There were fish tanks in that place with all kinds of fishes. As I was bored, my mum took me to take a look at the fishes. I remember clearly to this day still that one of them was very different from the rest and it was staring at me. Curious, I poked my little finger near the fish tank and it kind of responded back to me in it's own friendly way. It was considered a big fish and there was something very human to it which I could not explain still even now and as a kid, I smiled back to it and strangely it responded back to me once more.
Later as we went back to the dinner table, I realised it ended up as part of our dinner with it's head still there and eyes staring at me which made me felt really really terrible about it. I refused to eat it and I later felt sick as I saw it's eyes and fishhead slowly eaten off by the rest. When I was the leaving the place, I also saw one of the fishes being killed and it was moving in pain. In my heart, I secretly made a promise to try my best, not to harm them and I refused to eat most seafood. I know most people would find me very very odd. Most of them, find me stupid to feel that way. Perhaps I am. I don't know.
I am now mostly on a vegeterian diet with very occasional small portion of meat as advised by my dietitian but it was strangely, somewhere during that time, I realised that I have also developed a serious allegric reaction to most seafood.